Brainwriting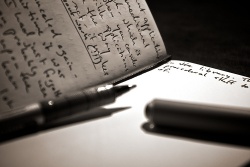 Image by e_walk (Access: 28.09.2009)
Short description
Brainwriting is also called the "6-3-5 method": 6 people, 3 ideas each, and 5 rounds. Basically, the same rules apply as in brainstorming. The difference is that in brainwriting the creative phase consists of writing instead of talking. Everybody first writes down their own ideas and then amends the ideas of all other participants in turn. Finally, possible solutions are discussed with regard to their fit to the problem at hand.
Process description
The problem is defined.

Six participants generate 3 new ideas each.

Notepads are passed around in a circle to the next person.

Each person complements or amends the ideas of his neighbor.

The cycle is continued 5 times.

Conclusions and solutions are being created.

The ideas are discussed in groups and adapted and applied to the problem.