Virtual Field Trip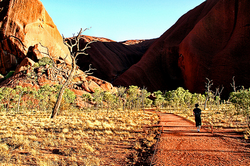 Image by Alex '77 (Access: 01.10.2009)
Short description
Virtual field trips are designed to be entertaining and educational. Virtual field trips provide opportunities for new discovery in the classroom. The virtual fieldtrip may be created prior to an actual trip the students will be making. In this way teachers can prepare students for the adventure they will have. This allows the teacher to focus on particular points of interest that the students should key in on. Teachers can create a virtual field trip using Microsoft Word, Powerpoint, or a web page.
The teacher chooses various sites that students will visit that pertain to the chosen topic. At each site (stop along the journey) or after a visit to several sites, the students will complete an activity or create a "souvenir" at the field trip stop.
Process description
Teacher prepares a tour and tourguide for students (for each tour stop that explains what the students are to do).

The activities may be an interactive experience at the particular site, writing in a journal, making a booklet of information, sending a post card about the stop, etc.

Students use the information they find at the various sites along the virtual tour.

Older students may be given the task of creating a virtual field trip about a given topic.
Required resources
Computer, Internet