Before, during and after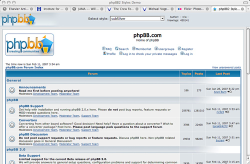 Image by Mike Vogt (Access: 15.12.2009)
Short description
It's a very useful technique if you want to learn about course participants' expectations concerning a course, what they bring to the course (pre-existing knowledge), what they want to gain during the course, what's their motivation, etc. Such information can help you in designing and facilitating the course. Most preferably, the technique is used during the first course meeting.
Process description
First of all, you should email learners with instructions for the activity.

Post a discussion topic on the learning platform with the following questions (and any other that you find useful):

What skills and/or knowledge related to the course topic do you have at this time?

What do you want to learn during this course?

How will you determine whether this course has been successful for you?

Motivate each participant to give his/her responses to the questions in the discussion forum.

You, as a facilitator, should review all the posting, give your comments, explain basic principles of the course and comment on how they could meet the participants expactations.

Other participants can review and comment on other participants responses - there could be a discussion.
Required resources
online asynchronous discussion board

access to email