Discussion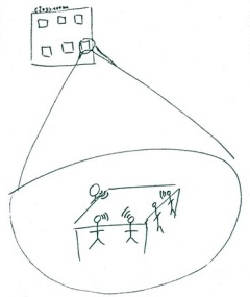 Image by Peter Koppatz (letzter Zugriff: 26.12.2009)
Process description
This is a "point zero" example: before the web: Everyone talks to each other; sometimes they listen to each other, too. Basic, maybe fundamental (before we get to all this high-tech schnick-schnack).
Process description
No WLAN necessary, a quiet room helps.
Required resources
Or, as we discussed, sometimes people "talk", sometimes they "emit", and sometimes they "scream".
Reflections
Some see technology weakening (limiting practice, allowing for more distance) f2f communications. Others see technology, such as communicating between f2f, supporting communications.
Evaluation?
Create a number of groups (of any size). Invite one group to sit and listen to lectures. Invite another read texts on their own and simply offer "multiple choice" tests. Invite a third listen 1/3 lectures and the rest of class time go for coffee. Invite a fourth group to use whatever technology they would like to work together.