Podcasting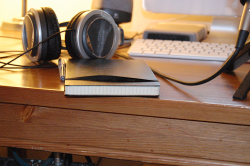 Image by the tartanpodcast (Access: 01.10.2009)
Short description
Podcasting is a way of publishing audio and video content on the web as a series of episodes with a common theme. Moreover this is supported by a so called "feed" making it possible for listeners to subscribe to the series and get new episodes when they are published. Podcasting in this activity is used as an alternative way to present a research assignment (Middelton, 2009: 149).
For more activities using podcasting see Middelton, A. (2009) Beyond podcasting: creative approaches to designing educational audio in ALT-J Research in Learning Technology.
Process description
Listen to podcasts from other students and educators to get inspired.

Discuss in class what makes a good podcast in relation to the assignment and make bulletpoints.

Write a manuscript for the presentation.

Record ...

Export audiofile as an MP3 file.

Upload file to a podcast webserver (Odeo or Podomatic).

Learners can subscribe to a podcast made by their group using free programmes (iTunes, Ipodder) or any RSS aggregater.
See more under examples.
Required resources
Computer

internal or exteral Microphone

Software:

audacity (Windows/Linux/Mac)

Garageband (Mac-User)