Note cards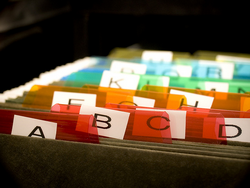 Image by Andy Ciordia (Access: 30.09.2009)
Short description
A method to learn facts, concepts or vocabulary by heart.
Process description
Basic Procedure
Take a card

Read it

Think of a response

Turn the card and check your response

Put the card away
Sorting method
First, all cards are in the first compartment.

If you have answered a question correctly, put it in the next compartment.

When the first compartment has been emptied, start on the second one.

If you answer correctly, move the card to the third if not, move it back to the first.
Required resources
Note cards and a box with dividers. Questions can also be assembled electronically and printed with the computer.
Examples