Mindmapping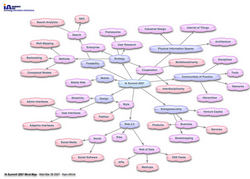 Image by Kaeru (Access: 30.09.2009)
Short description
Mind-Mapping is a way of visualizing relationships. A concept forms the centre of a mindmap. Subconcepts are represented as branches which can have subbranches in return.
Process description
Start with writing your central concept in the middle of an empty sheet of paper.

Think of different aspects of the topic and construct the mind map.

In order to organise your concepts, create higher level concepts to order the different aspects.

Revise and annotate your mindmap so that you will be able to understand it later.
Required resources
Flipchart

Big sheet of paper

Coloured pens or mind mapping software
Examples
Online Mind Map (free registration):
Software:
see also: